Disclaimer
Margaritaville Nominees Pty Ltd trading as Bombora Creative (ABN 49 432 374 832) shall in no event be liable for any loss of profit or any other commercial damage, including but not limited to special, incidental, consequential or other damages, arising from the downloading of any material from this web site.
The contents of the site are provided as general information only. Bombora endeavours to ensure that all information on the website is true and accurate at the time of publishing. However Bombora accepts no liability for and gives no undertakings, guarantees, or warranties concerning the accuracy, completeness or fitness for purpose of the information provided. No reliance should be placed on the information provided when making a decision affecting your own interest. Privacy
When you visit this web site, we record anonymous information about your visit and log the following information for statistical purposes:
your server address;
your top level domain name (for example .com, .gov, .au, .uk, etc.);
the date and time of your visit to the site;
the pages accessed and documents downloaded;
the previous site visited; and
the type of browser used.
This information is not specific to an individual and is used for system-administration purposes, as well as statistical analysis. While anonymous information does not tell us anything about you specifically, it tells us about how you use our site.
Cookies
Another type of anonymous information shared between your browser and our server is a cookie. A cookie is a small text file that a server places on your hard drive to identify that subsequent requests to a site have come from the same user. Bombora uses cookies to 'remember' your browser between page visits. In this situation, the cookie identifies your browser, not you personally. Bombora uses cookies on this web site to develop patterns of site usage.
No personal information is stored within Bombora's cookies. For more information on cookies refer to Microsoft's web site (http://www.microsoft.com/info/cookies.mspx )
Identifying users
Bombora does not seek to identify users or their browsing activities. The exceptions to this are: in the case where users supply the required identifying information in the course of completing one of Bombora's input forms; or in the unlikely event of an investigation where a law enforcement agency may exercise a warrant to inspect Bombora's logs.
This site does not currently collect personally identifiable information, such as your name, address, date of birth or gender, unless you complete one of Bombora's input forms. Bombora will only record your email address if you send us a message. This information will only be used for the purpose for which you have provided it and will not be added to a mailing list. We will not use your email address for any other purpose, and will not disclose it without your consent.
Related sites
External sites that are linked to or from Bombora's web site are not under our control and you are advised to review their privacy statements
Legal disclaimer
Bombora will attempt to ensure that the information provided on this website is correct, however we cannot guarantee its accuracy, suitability or completeness. The information is provided to you on an "as is basis" without warranties of any kind, either express or implied. You should be aware that the information on this website is subject to change at any time.
To the extent permitted by law, Bombora exclude all liability arising from or relating to your use of this website or your reliance upon information contained on the website.
This website may contain links to other websites operated by third parties. Bombora does not make any representation as to the accuracy or suitability of any of the information contained on those other websites, and does not accept any responsibility or liability for the conduct, content or products or services of those other websites.
Nothing in this disclaimer is intended to exclude any warranty or condition which may be implied by the Trade Practices Act 1974 or any similar consumer legislation.
Alby Falzon's "Morning of the Earth" DVD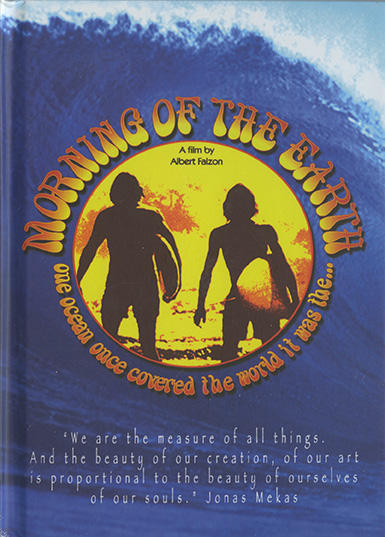 IN STOCK NOW If you are interested in buying a copy, send an email to david@bombora.net.au We'll make it happen.
Waltzing The Plank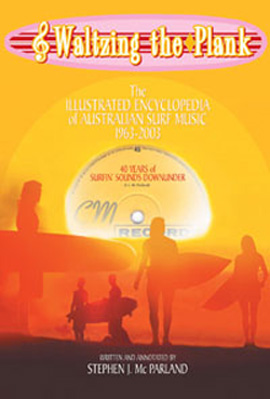 The illustrated encyclopedia of Australian surf music, by surf music historian and guru Stephen McParland
"This is an awesome piece of work – the 50 year history of Australian surf music – by a totally delightful but crazy guy. You owe it to him to have a look at this book."
David Minear, Bombora's Big Kahuna.
"Anything you want to know about Australian surf music – no, make that anything there is to know about Australian surf music – can be found within the plentiful pages of this quite amazing digital encyclopaedia."
Pacific Longboarder Magazine
More from Bombora